Model smoking her cigarette. We have thousands of exclusive smoking fetish pictures of Models Smoking. Who has the best smoking fetish site? Answer: AltaSmoking.com Best for smoking fetish!

Get ready to enter an alternate reality, folks! I hope you have your breathing techniques down because Cadey Mercury is about to leave you gasping for air. This smoking hot gal will make you want to quit your day job and follow her around like a lost puppy.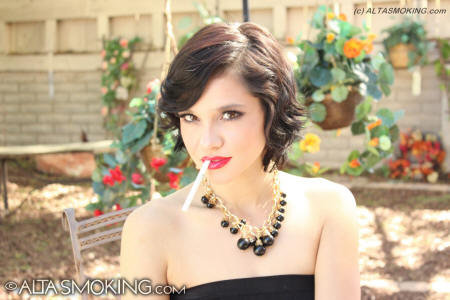 Her red wet lips as she takes a drag from her cigarette are nothing short of sinful. It's like watching a master artist working their magic. And just when you think it can't get any better, she subtly tucks the cigarette between her fingers with a flare that says, "Yeah, I know I'm hot. Deal with it."




To say her makeup is perfect would be a gross understatement. It's like her makeup artist was blessed by the gods of beauty. And her hair? The perfect short brunette that makes you wonder why you've been growing yours out for the past decade.

But wait, there's more! The black tube top she's wearing shows off her youthful figure like nobody's business. And don't even get me started on her captivating eyes - it's like they're staring straight into your soul.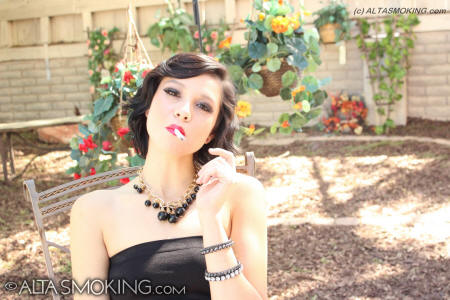 The location for this photo shoot is a sunny yard, and it's as if the sun is shining down on her like "girl, work it." Each image is more stunning than the last. Her confidence and strength radiate through the screen so much that you can't help but be drawn in. It's like she's saying, "Yeah, I know I'm a goddess. Is there something wrong with that?"

And let's talk about her smoking. Each exhale is pure power. It's like she's saying, "I'm not just a pretty face, honey." The way she inhales deeply and savors every moment of her cigarette is almost hypnotizing. You can practically hear her saying, "I don't always smoke, but when I do, I look damn good doing it."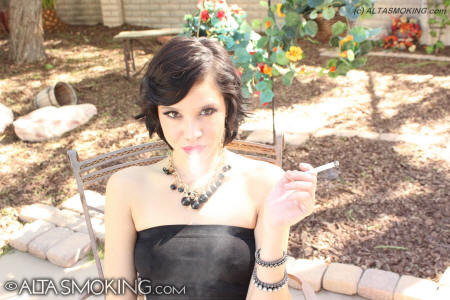 Cadey Mercury is more than a smoking fetish model - she's an experience. You'll find yourself yearning for more of her stunning beauty and alluring style until your mind is consumed with thoughts of her. She's the type of woman who'll have you forgetting your own name and wondering why you're not her personal assistant.

So saddle up, folks. These images of Cadey Mercury aren't for the faint of heart. But hey, if you can handle it, let her take you on a ride like never before. And don't worry if you start pumping your jam to these photos - we won't tell a soul.


All models appearing on this website are 18 years or older.
Click Here
for records required pursuant to 18 U.S.C. 2257 Statement.
By entering this site you swear that you are of legal age in your area to view adult material and that you wish to view such material