Kenzie Reeves smoking her cigarette. We have thousands of exclusive smoking fetish pictures of Models Smoking. Who has the best smoking fetish site? Answer: AltaSmoking.com Best for smoking fetish!


Kenzie Reeves, an 18-year-old with stunning beauty and style. Her confident attitude, perfect outfit, and expertise in handling a cigarette are sure to captivate your imagination. The images take place in a sunlit yard that amplifies Kenzie's beauty, and her petite frame and gorgeous style come together to create an incredible aura. As you peruse each image, you will become more and more drawn into Kenzie's world, feeling a heady rush of sensuality and a hardening cock with every exhale of smoke and every flick of her hair.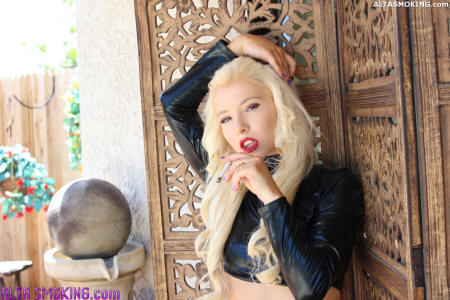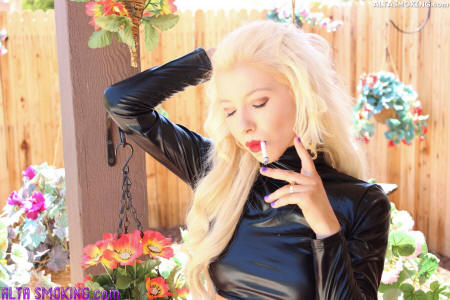 Hold on tight, because Kenzie Reeves is about to blow both your mind and your hot jizz with her stunning beauty and unique style. In this set of images, you'll be captivated by her confidence, attitude, and, of course, her expert handling of a cigarette.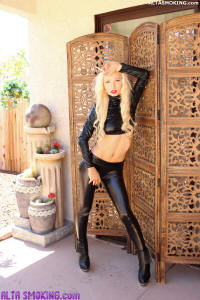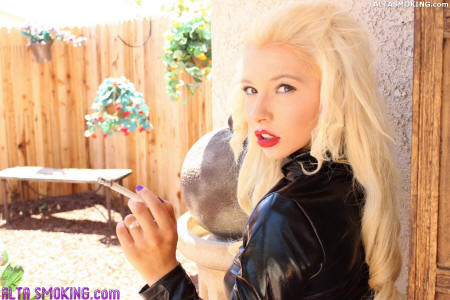 At just 18 years old, Kenzie is already a force to be reckoned with - an extra petite powerhouse of swagger and charisma. Her lips are an eye-catching shade of red, and her sunlight blonde hair cascades down her back in soft waves.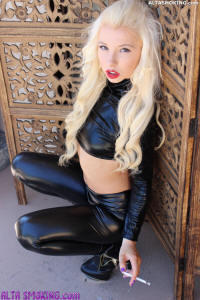 Kenzie's cigarette is a key part of her look, serving as an extension of her confidence and style. She inhales expertly and exhales in a way that's both beautiful and mesmerizing, letting the smoke curl around her and adding to the sensuality of the entire scene.

Moreover, her outfit is an equal measure of stunning and badass. Her black skin-tight, shiny leggings hug her petite body perfectly, and her tight, shiny black top shows off just enough skin to leave you wanting more. And of course, her 6" black ankle booties add the perfect amount of attitude, making Kenzie a true icon of style, and inspiration for millions of men's jackoff sessions!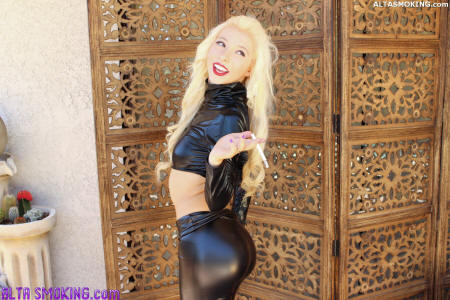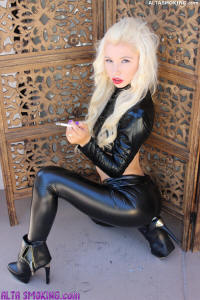 All of this takes place in a sunlit yard, creating an atmosphere that's both ethereal and natural. The natural light only serves to enhance Kenzie's beauty, making her look like a goddess in the midst of paradise.

As you peruse each image, you will feel your fist pumping harder and harder, yearning to squirt what you believe just might be the largest Nut you've ever shot... Kenzie's confidence and style radiate off the screen, drawing you in and leaving you desperate for more. You'll be captivated by the way she takes control of her cigarette, holding it with style and grace, and expressing herself in every inhale and exhale.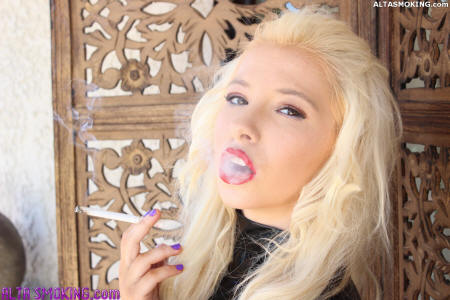 And of course, Kenzie's petite frame is a testament to the power of youth and vitality. Her slender body and tiny ball of an ass is perfectly squeezed in leggings that scream "Look At Me Mother-Fucking!'

But there's also something incredibly unique and powerful about Kenzie's attitude. She holds herself with confidence and poise, daring the viewer to look away and challenging them to find someone who's as captivating as she is.

As you move through each image, you'll find yourself becoming more and more drawn into Kenzie's world. You'll feel the excitement and the electricity sparked by her every move, the heady rush of sensuality that comes with every exhale of smoke and every flick of her hair.

All models appearing on this website are 18 years or older.
Click Here
for records required pursuant to 18 U.S.C. 2257 Statement.
By entering this site you swear that you are of legal age in your area to view adult material and that you wish to view such material