Kenzie Reeves smoking her cigarette. We have thousands of exclusive smoking fetish pictures of Models Smoking. Who has the best smoking fetish site? Answer: AltaSmoking.com Best for smoking fetish!

Kenzie Reeves is the epitome of sass and playfulness, exuding a confidence that is utterly captivating. From the red lips that are always tempted to take a drag of her cigarette, to her pageant smile that could light up any room, she embodies the perfect balance of beauty and attitude.

As you watch her smoke, you can't help but notice the way she takes each drag with style and grace, inhaling the smoke deeply and holding it until her small yet perfectly built petite body is saturated with its power. Her exhales are nothing short of gorgeous, each one more breathtaking than the last, as she effortlessly blows smoke into the air. It won't be long before you're pumping that nut through the open end of you fist.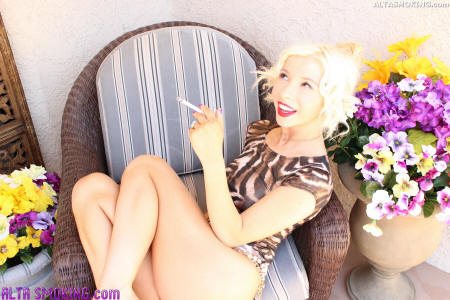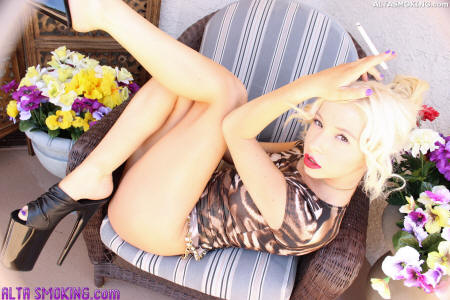 Kenzie's outfit is an extension of her personality, a bold and fierce statement of who she is. Her sunlight blond hair is pulled back in a tasteful bun, showcasing her stunning features and drawing all attention to her striking animal print top. This skin-tight number hugs her curves in all the right places, and serves as a perfect backdrop for her 8" black stripper heels, which add a touch of danger and a whole lot of sex appeal. Topping off her look is an unrestricted view of her beautiful innie pussy.

As you catch a glimpse of Kenzie Reeves perched on an oversized, cozy chair, smoking with a certain level of elegance, you can't help but feel captivated by her beauty. She knows all the right angles to show off her features, and as she takes her cigarette to her lips, you can see the way it enhances her natural confidence.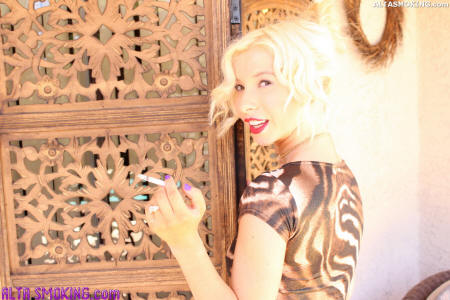 Kenzie's cigarette smoking is more than just a habit - it's an art form. She knows how to draw all the right attention to her and uses the smoke as a tool to enhance her natural charm and sex appeal. Each time she takes a drag, you're transported to a world of glamour and sophistication, where classic beauty reigns supreme.

Watching Kenzie smoke is an experience that is both captivating and intoxicating, and one that leaves you wanting more. Every inhale, every exhale, every moment in between is a thing of beauty, and as she holds the cigarette between her fingers, you can see the way it adds to her overall look of glamour and sophistication.

If you're looking for a new favorite model to jack-off to, Kenzie Reeves is the perfect choice. Her beauty, poise, and confidence are things to be celebrated and cherished, and as you masturbate while watching her smoke, you'll see just how effortlessly cool she really is. So sit back, relax, jackoff and enjoy Kenzie's smoking artistry - you won't be disappointed.
All models appearing on this website are 18 years or older.
Click Here
for records required pursuant to 18 U.S.C. 2257 Statement.
By entering this site you swear that you are of legal age in your area to view adult material and that you wish to view such material