Model smoking her cigarette. We have thousands of exclusive smoking fetish pictures of Models Smoking. Who has the best smoking fetish site? Answer: AltaSmoking.com Best for smoking fetish!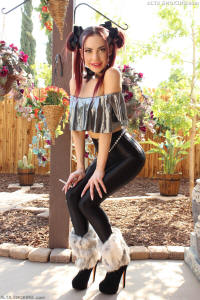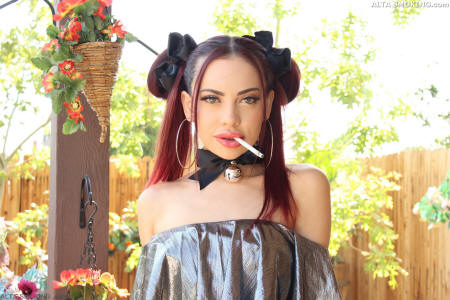 Introducing the one and only Sabina Rouge - the epitome of sass, confidence and attitude. Decked out in an outfit that just screams Cute AF, Sabina Rouge is turning heads with her stunning features and her perfectly choreographed cigarette smoking routine.
First things first, that smoking. She's holding that cigarette with style and poise, blowing out beautiful exhales while inhaling deeply in the sunlight yard. You can't help but appreciate the way she takes control of that cigarette, the way her plump wet lips seem to almost kiss it with each inhale. It's a small gesture, but it speaks volumes about Sabina's bold and unapologetic attitude.
Now let's talk about that outfit. Sabina's cute AF hair buns are the perfect complement to her luscious brunette locks. Her skin-tight black shiny jeans hug her curves in all the right places, accentuating every inch of her toned legs. But it's those 6"booties with fuzzy covers that really steal the show. They give Sabina that extra height that makes her stand tall and exude confidence. The giant hoop earrings and large black choker/bow around her neck are also notable additions, showcasing Sabina's edgy yet playful sense of style.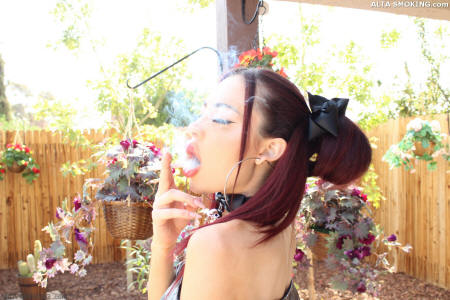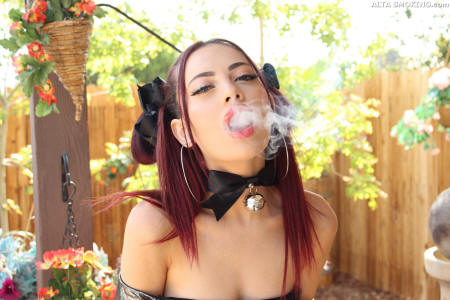 Every single element of Sabina's outfit works together to create an image of a woman who knows what she wants and isn't afraid to go after it. The way she rocks that cigarette, the way she sashays around in those boots, it all comes together to create this indescribable allure. She has a magnetic energy about her that demands attention.
As you watch Sabina Rouge strut her stuff, it's hard not to be captivated. She knows how to work it, all while maintaining an air of effortless coolness. With each exhale of her cigarette, she exudes power and control. And yet, there is a softness to her as well. Her gorgeous face is equal measures cherubic and sultry, and watching her in the sunshine yard just puts a smile on your face.
Sabina Rouge is not your average model. She is a woman with a presence that is larger than life - and boy, does she know how to command that presence. Her confidence is unmatched, and it's reflected not just in the way she looks, but in the way she acts. Everything about her screams self-assurance, making her the kind of person you can't help but be inspired by.

Sabina Rouge is a magnetic model with a look that demands attention and a perfectly choreographed cigarette smoking routine. Her outfit is a reflection of her fearless spirit and includes cute hair buns, skin-tight black shiny jeans, 6"booties with fuzzy covers, giant hoop earrings, and a large black choker/bow. Sabina exudes confidence and power in everything she does, making her a force to be reckoned with and an inspiration for women everywhere.

All models appearing on this website are 18 years or older.
Click Here
for records required pursuant to 18 U.S.C. 2257 Statement.
By entering this site you swear that you are of legal age in your area to view adult material and that you wish to view such material