Victoria Rae Black: Smoking Fetish Porn Star. Natural Tits and perfect body.
Victoria Rae Black smoking a cigarette.

Get ready to be swept off your feet by the stunning Victoria Rae Black, the embodiment of grace, beauty, and sensuality. As you peruse this set of images, you'll be entranced by Victoria's exquisitely styled outfit and her confidence as she expertly handles her cigarette.
At just 18 years old, Victoria possesses a level of confidence and maturity beyond her 18 years - a young woman who knows exactly who she is and what she wants [ hint, she wants you to jackoff to her]. You'll be captivated by the way she holds herself, the way she takes a puff of her cigarette with releaxed ease, and the way she exhales the smoke in a beautiful and hypnotic way.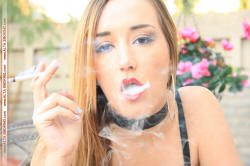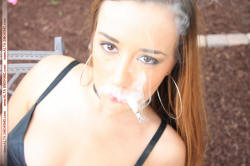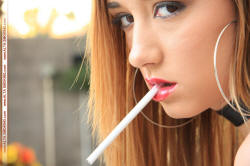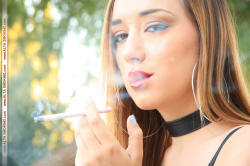 Victoria's lips are a work of art, painted in a stunning shade of red that's sure to leave you breathless. As she inhales, they part slightly, and you'll be drawn in by the way she expertly handles her cigarette - with an air of sophistication and elegance that makes it seem like an extension of her outfit.
Speaking of her outfit, Victoria wears an ensemble that's both fashion-forward and utterly alluring. Her long straight hair falls down her back in lustrous waves, and her black choker and large hoop earrings only serve to draw attention to her stunning features.
Victoria's leather bustier hugs her ample chest, accentuating her curves in all the right places. Her seamless pantyhose and black and metallic gold stripper heels create a look that's both edgy and refined, making her an irresistible vision from head to toe.
As you peruse each image, you'll be struck by the way Victoria expertly handles her cigarette. She holds it with style, letting the smoke curl around her big titted slinky frame. Her slender body is a testament to her youth and vitality, and you'll feel the draw of her confidence and attitude in every shot.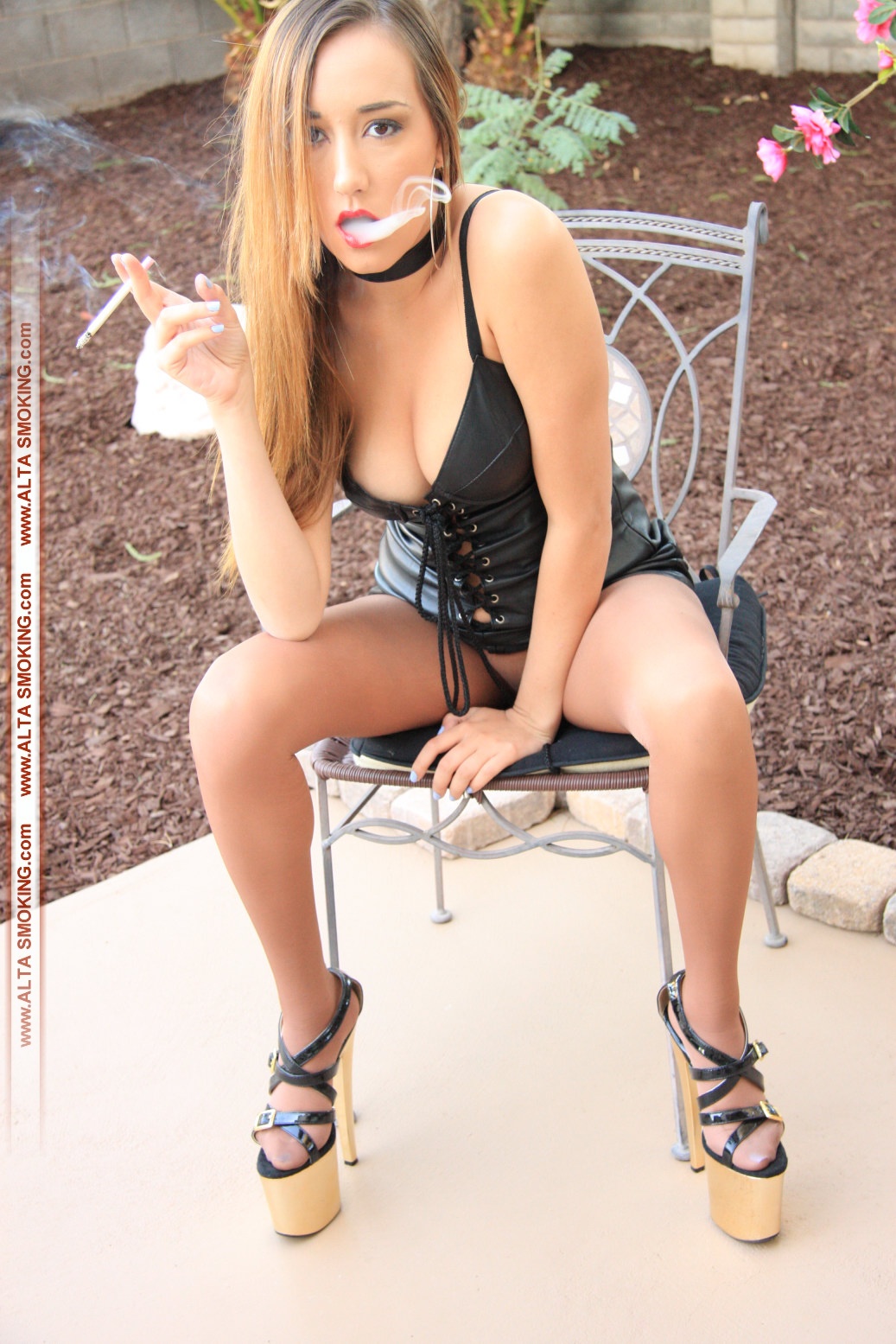 Victoria's location for this shoot is a simple backyard, but it's the way she inhabits the space that truly captures your attention. Her beauty is amplified amidst the neutral backdrop, and you'll feel yourself drawn into her world with every passing second.
And of course, it's not just Victoria's physicality that will have you captivated - it's her confidence, her attitude, and her sheer presence. As she smokes her cigarette, you'll find yourself entranced by her every move. The way she inhales, the smoothness of her exhales, the way she holds herself - it all adds up to a captivating and powerful image.
With each passing image, you'll be caught up in Victoria's beauty and style, with her cigarette serving as a focal point and a complement to the overall look. You'll find yourself completely swept away, lost in the magic of this young woman of just 18 years who exudes confidence and sensuality with every breath.
As you masturbate and then finally release your cum, you will appreciate Victoria Rae Black is a vision of beauty and style, with a confidence and attitude that will leave you with an empty sac and softening cock.